To be sure to hit your business goals via automation you need to define the workflow. This will help you to understand your recipients behavior and get to know more about them.
Having a good knowledge about your recipients is a key factor to help you offer them information that is relevant and aid them make right decisions.
There are three key aspects of lead nurturing email automations that you have to put into action.
Providing educative content about your products or services or your brand.
Segmenting the audience so that you can send personalized content.
Nurturing your relationship with the prospect by adding value to your content.
Here are some of the basic automation workflows that help in nurturing the leads.
Welcome emails
Think of this as the first impression of your brand. It is the most vital email of your automatic series sent when a new subscriber joins your email list. This email needs to be sent immediately after the subscriber signs up.
2.Cart abandonment emails
Many customers abandon their carts due to various reasons but how you handle this really have an impact on your business. All you need to do is to make a follow up to understand the reason for the abandonment, give discounts and offers and entice them to come back and make the purchase.
3.Order follow-up emails
This can be in the form of appreciating the customer /subscriber for making a purchase. You can send simple thank you emails, reminders or order summary emails. It is essential as it helps to maintain the relationship with the customer/subscriber.
You can also use this opportunity to help them connect with your business on other channels or recommend them other products or services that they may be interested in.
4.Re-engagement emails
The main purpose of this is to reconnect with the less engaged customers. You can can ask them to set preferences or rather unsubscribe from your mail list.
How do you get started with all these online marketing solution? Here is a recommendation of all you need to get that done, from creating landing pages,email marketing and webinars to marketing automation.
1.
GetResponse
2.
Aweber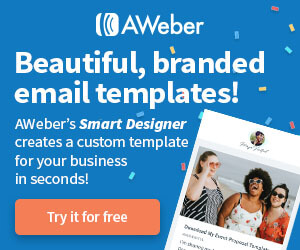 3.
e-goi
4.
Moosend
You can also check some software recommendations
here